Turkey Poultry Meat Sector
Poultry meat is an indispensable food for tomorrow as well as today considering its contribution to the healthy nutrition of our people, being an economic and stable source of food, and its place in the balanced and adequate nutrition of the low-income population.
It has been the most produced poultry meat in the world among other meat species since 2015. Turkey ranks 10th in the world in chicken meat production. In 2021, a total of 2.297.071 tons of poultry meat was produced as 2.245.770 tons of chicken meat and 58.301 tons of turkey meat.
In our country, there are more than 15,000 broiler poultry raising houses. Poultry owners can continuously produce and generate continuous income with the successful "contractual breeding" model applied in the sector.
Turkey is a candidate country to become a world player with its potential in the poultry meat sector. It provides significant added value to the national economy with its structure that provides intensive employment and supports agriculture. In the poultry meat sector, around 3 million people, including raw material farmers, tradesmen, feed, pharmaceutical-vaccine, sub-industry, transportation and marketing branches, make a living in the sector. The annual turnover of the sector is approximately USD 5.5 billion.
Turkey ranks 5th in world trade and exports to 93 countries. In 2021, nearly 632 thousand poultry meat (including chicken feet) was exported with the value of 894 million US dollars. The sector also exports hatching eggs and chicks.
Poultry meat consumption per capita has reached a value of 21,1 kg/year. Turkey's poultry meat sector continues its efforts to increase its quality-reliable-delicious products in the domestic and international market by developing them with every passing year.
In summary, companies that are a member of BESD-BIR have the following production features:
The leading companies that have a say in poultry meat production in Turkey are among BESD-BIR members. Each member of BESD-BIR plays an important role in the development of both the feed sector and the poultry meat sector with its international technology and quality and continues to contribute to the national economy.
Our members produce using the integration model. In the integrated production model, all stages except the main breeding chick are carried out under the ownership and/or supervision of the integrated enterprises. It has a compound feed factory, breeding poultry houses, hatchery, broiler poultry houses, slaughterhouse facilities.
The incoming breeding chicks are placed on the "breeding" farms of the producing companies and fed with compound feed prepared by taking into account the needs of the animals in a hygienic environment, appropriate temperature and ventilation conditions for 24 weeks.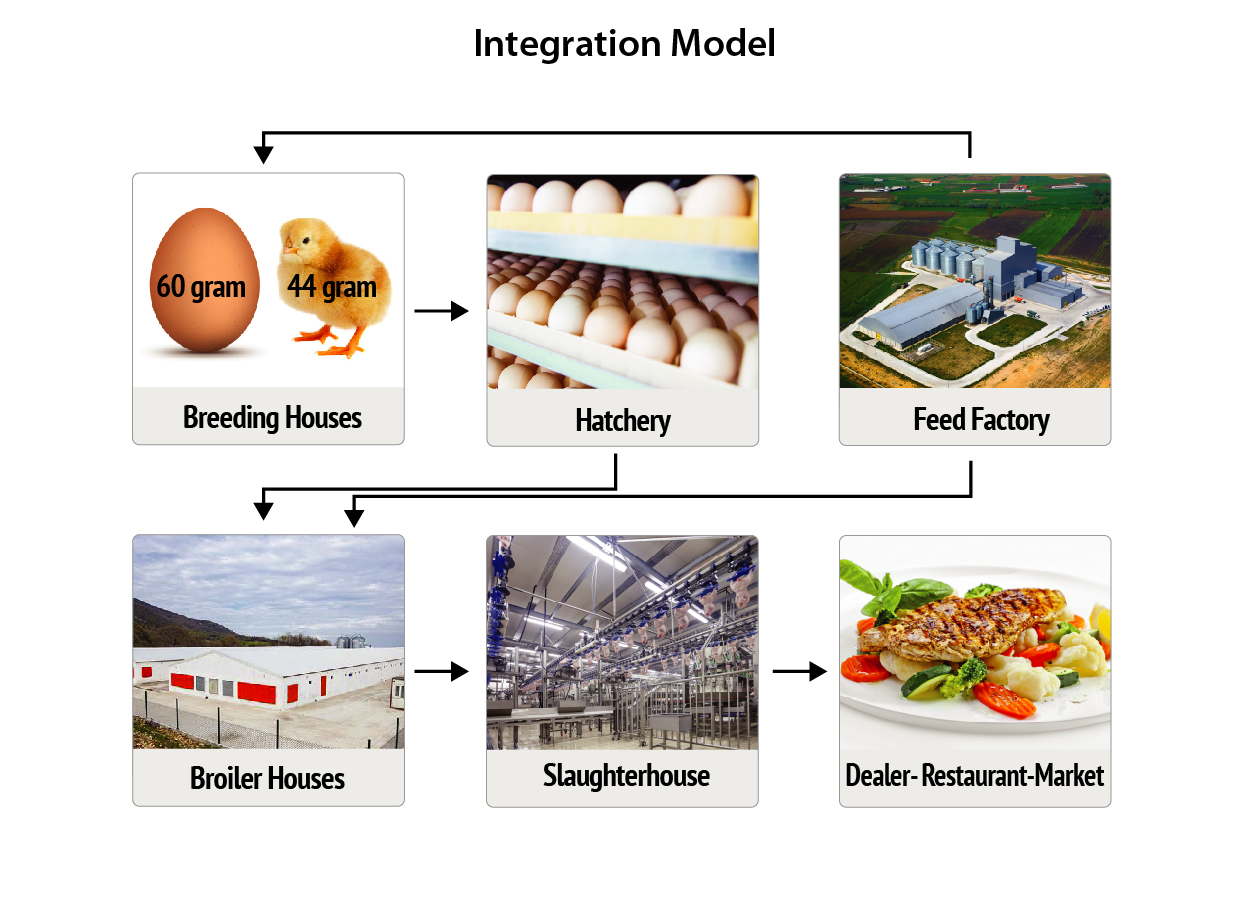 Animals that start laying eggs from the 24th week of life end the economic yield at the age of 64 weeks. Since female and male animals are kept together in poultry houses, these eggs are fertile. Eggs produced from breeding flocks are regularly sent to hatcheries with the most advanced technologies for hatching chicks.
In a realistic incubation environment where all kinds of hygienic conditions are met, these eggs are hatched after 21 days and chicks to be raised as broiler chicks are obtained.
Chicks produced in hatcheries undergo a health screening by veterinarians and, after some vaccinations, are only transported to broiler farmed poultry houses.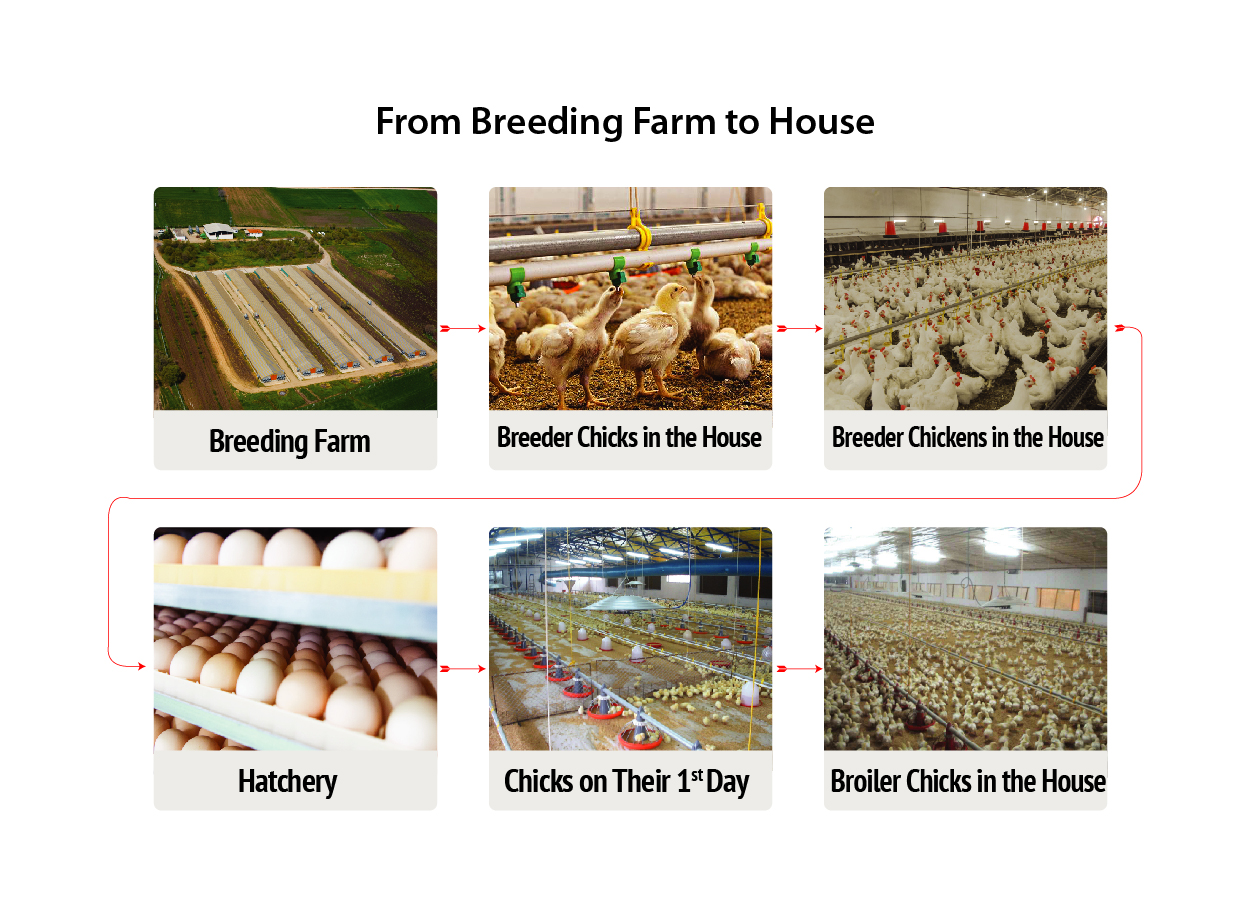 Chicks are raised in poultry houses in farms working under contract with the manufacturing firm for up to 40-45 days. Health, hygiene and living conditions of animals are monitored with visits during this period.
Breeders record all issues such as water, feed, vaccine, drug use, development of animals, poultry visits.
At the end of this process, the chicks are sent to the slaughterhouse with a live weight of between 2,000 and 3,000 grams. Chickens are taken from the farm by special means and the rules on animal welfare are best applied and sent to the slaughterhouse.
Halal slaughtering is performed in all slaughterhouses in Turkey. Slaughtered chickens and turkeys are automatically cleaned and processed in modern machines. In all slaughter establishments, pre-slaughter animal control and post-slaughter processes are carried out under the observation and control of business veterinarians. In addition, official veterinarians affiliated to the Ministry of Agriculture and Forestry continuously supervise production in slaughterhouses.
Fresh poultry meat produced following slaughter is presented to the market as whole or fragmented, as well as processed and further processed product production is carried out by transporting it to advanced processing facilities.
Storage process is carried out by providing heat in accordance with the requirements of the products. There is a traceability system in production and storage information of the products. Breakage of cold chain is not allowed at any point.
All production processes of integrations are also continuously monitored by controls and audits by third-party certification bodies. BESD-BIR members have ISO 9001 Quality Management System Certificate, ISO 22000 Food Safety Management System Certificate (HACCP), ISO 14001 Environment Management System Certificate, TS 18001 Occupational Health and Safety Management System Certificate, TSE Product Conformity Certificates and Halal Conformity Certificate. Some members have GFSI (Global Food Safety Initiative) approved BRC Global Standard (Food) Certificate, IFS (International Food Standard) Certificate, FSSC 22000 Food Safety System Certificate. Some members have also received ISO 10002 Customer Complaint Management System certificate and Good Agricultural Practices Certificate.
The sector carries out joint studies with the state and universities on scientific developments and the research and use of production methods.
Animal welfare conditions are taken into account at every stage of the process.
Each stage of production is carried out in accordance with the rules laid down by the Ministry of Agriculture and Forestry. All of the rules are compatible with the European Union.
In summary, companies that are a member of have the following features:
The facilities use state-of-the-art automation and surveillance systems.
Effective management and internal audits in terms of biosafety, ventilation, heat-humidity and health can be carried out 24 hours during the breeding process.
The harmonization of animal welfare rules is given importance in breeding and slaughterhouses.
There is a retrospective traceability system in production and storage information of the products and breaking of cold chain is not allowed at any point.
The Ministry of Agriculture and Forestry also carries out its legal controls and inspections continuously in all processes of production. In addition, final product samples are taken from the shelves of the grocery stores and analyzed and the producers are monitored.
The Ministry's National Salmonella Control Program, Residue Monitoring Plan, National Veterinary Antibiotic Resistance Monitoring Project and E-Prescription and Drug Tracking System for Veterinary Medicinal Products are successfully implemented in the sector.
Thanks to all these, the placing on the market of healthy and reliable poultry meat is realized and assured.
Regarding the poultry meat sector, do not rely on the statements in the media that are unscientific. The entire farm-to-fork production process is carried out in accordance with the principles of "food safety", "animal and public health" and within the framework of international norms. All of the products are healthy and of good quality and do not pose any risk to consumers.